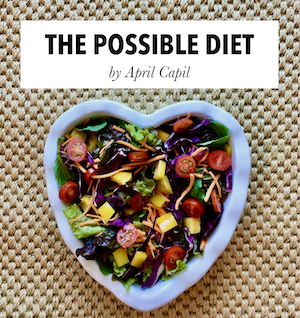 Do the thing and you will have the power.
~ Ralph Waldo Emerson
The problem I've always had with diets is they are IMPOSSIBLE. Either the foods required are ridiculous, or expensive, or hard to make or hard to buy or hard to keep eating over and over and over. If a diet isn't prescribing impossible food choices, it's prescribing impossible eating schedules – forcing you to starve yourself for hours, or carry Tupperware containers everywhere, or avoid potlucks or restaurants.
When I found myself in Dr. G.'s office at 204 pounds with a BMI of 34, I was ashamed of the corner I'd eaten my body into. Despite the success stories on her website, I had little faith that she could help me. In addition to my own hang-ups about diets not working, bodies being beautiful at any size, and a simmering resentment that I was only changing my lifestyle to conform to societal norms, I knew I would be fighting an aging metabolism, a serious sweet tooth, and a lifetime of bad habits.
Dr. G. laid out a plan to lose 50 pounds that she said had worked for dozens of her clients, to help them reach their weight loss goals safely ad sensibly. It didn't require crazy food combinations or hours at the gym, just a commitment to achieving my goals and a willingness to keep trying, because the solution to my dilemma was going to be simple, even if it wasn't always going to be easy.
I considered my favorite Japanese proverb:
When is the best time to plant a tree? 25 years ago.
When is the next best time? Today.
Looking back, I realized the biggest gift Dr. G. gave me wasn't a diet.
It was the idea that I could do something that I had never been able to do before.
If you're curious about the strategies and recipes I use every day, check out The Possible Diet's YouTube Channel.
If you're ready for change now, you can buy the book on Amazon in paperback or Kindle versions, or check out my Etsy Shop, where you can get your own Possible Planner, which comes with a free digital download of The Possible Diet, courtesy of Smashwords.com.
If you want a more supportive weight loss journey, try my 5-Week Jumpstart e-Course, which comes with the book, the planner, and weekly e-mails to keep you on track.
Sign up below to be the first to hear about my upcoming course launches and receive your free "Curing Your Worst Carb Cravings" PDF.